Yancy Gonzalez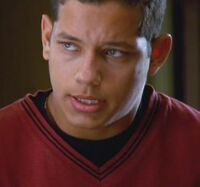 Appeared in
{{{Appearances}}}
Mentioned in
{{{Mentioned}}}
Yancy Gonzalez was the son of Nivan Gonzalez.
Before Season 1
Edit
Yancy received a scholarship to study at Stanford, but he still had to cover housing and book expenses. When his father found out this was Yancy's dream, he told him he'd stop paying Marlon Demeral for protection so he could cover the expenses.
After his father, Nivan, was beat up by a young gang member called Olman, Yancy went to the Barn to testify. Yancy told Detective Claudette Wyms of how his father had stop paying for protection, thinking it could've been Marlon who did it.
Appearances
Edit
Ad blocker interference detected!
Wikia is a free-to-use site that makes money from advertising. We have a modified experience for viewers using ad blockers

Wikia is not accessible if you've made further modifications. Remove the custom ad blocker rule(s) and the page will load as expected.