Xavier Pérez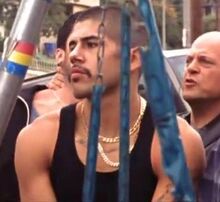 Appeared in
{{{Appearances}}}
Mentioned in
{{{Mentioned}}}
Xavier Pérez was a member of the Torrucos gang.
Xavier was at Armadillo Quintero's house the morning that Detective Vic Mackey and the Strike Team went to talk with him. When Xavier opened the door, he asked angrily to Vic what they wanted. They then came in and as Vic approached Armadillo to talk with him, Shane, Lem, and Ronnie dragged Xavier and the other gang members outside. They then took their drivers license to check their credentials. Lem found out that Xavier's drivers license had expire several months ago. Since he was on parole, this meant a violation. Vic then told Armadillo he would use the charge of harboring a felon as an excuse to arrest him.
Appearances
Edit
Ad blocker interference detected!
Wikia is a free-to-use site that makes money from advertising. We have a modified experience for viewers using ad blockers

Wikia is not accessible if you've made further modifications. Remove the custom ad blocker rule(s) and the page will load as expected.