Weed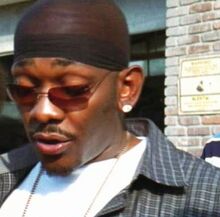 Appeared in
{{{Appearances}}}
Mentioned in
{{{Mentioned}}}
Profession
One-Niner member
Weed was Antwon Mitchell's replacement after he was thrown in jail.
Antwon's lawyer met with Weed in order to discuss the terms of who would be the next person to run the One-Niners. Weed's competitor, Halpern White, had trouble with his organization and needed him to be taken out of place. Vic and the Strike Team visited Weed and told them they'd get rid of Halpern if he told them what happened to Scooby and Carl. Weed told them that some man named Jamani had something to do with stealing their guns and that he would probably lead them to the killers. After revealing the information, Vic agreed to help Weed in the future.
Appearances
Edit
Ad blocker interference detected!
Wikia is a free-to-use site that makes money from advertising. We have a modified experience for viewers using ad blockers

Wikia is not accessible if you've made further modifications. Remove the custom ad blocker rule(s) and the page will load as expected.