Wanda Higoshi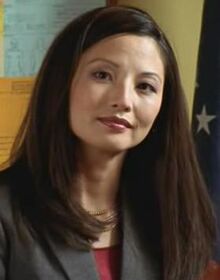 Appeared in
{{{Appearances}}}
Mentioned in
{{{Mentioned}}}
Wanda Higoshi was a public relations representative for the Los Angeles Police Department.
Four months after the "Farmington Project" began, new captain David Aceveda gave a press conference to list the successes they have had so far. Before the press conference, Higoshi coached him on what to say. She presented Aceveda and watched carefully through the press conference. When it was over, she also approached Vic Mackey (who nicknamed her by the alias of "Doll") to see if he wanted to talk to the reporters. She expressed interest in the matter because she felt like it was well-deserved for the Strike Team after the increase in successful arrests.
Appearances
Edit
Ad blocker interference detected!
Wikia is a free-to-use site that makes money from advertising. We have a modified experience for viewers using ad blockers

Wikia is not accessible if you've made further modifications. Remove the custom ad blocker rule(s) and the page will load as expected.