Walon Burke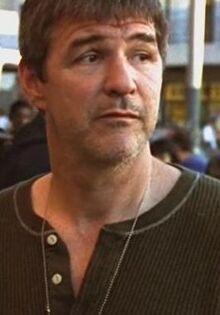 Appeared in
{{{Appearances}}}
Mentioned in
{{{Mentioned}}}
Walon Burke was a Los Angeles Police Department detective and the head of the Decoy Squad.
Season Three
Edit
Walon and the Decoy Squad were brought to the Barn by Claudette Wyms to help the Strike Team. Walon developed a semi-friendly rivalry with Vic Mackey that began when they overtook the Team's clubhouse. During their first assignment together, Vic and Walon place a bet that whoever doesn't solve the case has to streak naked through the Barn. When the Strike Team beat the Decoy Squad on it, Walon was the only one to have fun while running naked, dancing and posing at everyone.
Some time later, Walon became furious with Claudette when she neglected a memo about a mole when ordering a wiretap and put Walon's teammate Trish George in danger. Because of this, he requests for his team to be transferred out of the Barn.
Appearances
Edit
Ad blocker interference detected!
Wikia is a free-to-use site that makes money from advertising. We have a modified experience for viewers using ad blockers

Wikia is not accessible if you've made further modifications. Remove the custom ad blocker rule(s) and the page will load as expected.