Wally Forton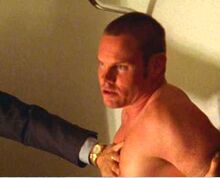 Appeared in
{{{Appearances}}}
Mentioned in
{{{Mentioned}}}
Wally Forton was Melissa Kramer's boyfriend.
Wally Forton had a relationship with Melissa Kramer. However, Melissa's mother didn't approve. One day, Wally went to Tanya's apartment angry. When Tanya refused to let him in, she called 911. Wally went outside and waited for 20 minutes, and then went back in, broke into the house and violently killed Tanya and her sister with a meat tenderizer. Wally then tried to dispose of their bodies down a garbage disposal but was unable to. He then fled the scene. After awhile, he went to Melissa's apartment to pick her up but she wasn't there. A neighbor told him she was at the gym. Wally picked Melissa and they went to a motel in the middle of the city.
Eventually, Detective Claudette Wyms and Captain David Aceveda found Wally's location and interrupted them having sex. The cops pulled him off of bed and handcuffed him. Melissa was shocked when she found out about the murder, but he told her Tanya and Violet wouldn't stop bothering them. As he was dragged outside, he shouted out, "We're forever baby! Forever!!". Wally was then taken to the Barn.
Appearances
Edit
Ad blocker interference detected!
Wikia is a free-to-use site that makes money from advertising. We have a modified experience for viewers using ad blockers

Wikia is not accessible if you've made further modifications. Remove the custom ad blocker rule(s) and the page will load as expected.