Virgil Lewis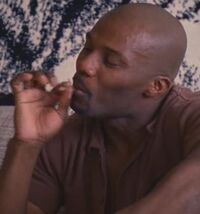 Appeared in
{{{Appearances}}}
Mentioned in
{{{Mentioned}}}
Virgil Lewis was a friend of Derrick Tripp. They knew each other before Tripp became a famous basketball player. One time, he was arrested for drug possession and hit Vic Mackey during the intervention.
When Mackey saw that Danny Sofer had a warrant to arrest Virgil, he took it from her and went there with the Strike Team. They found him at his home using drugs with a friend and arrested him. As they were taking him out, basketball star Derrick Tripp came in and was arrested as well. Lewis was taken to the Barn. When Tripp went missing, Lewis testified that the Strike Team had taken him somewhere.
Appearances
Edit
Ad blocker interference detected!
Wikia is a free-to-use site that makes money from advertising. We have a modified experience for viewers using ad blockers

Wikia is not accessible if you've made further modifications. Remove the custom ad blocker rule(s) and the page will load as expected.