Vanessa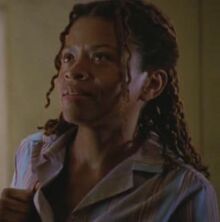 Appeared in
{{{Appearances}}}
Mentioned in
{{{Mentioned}}}
Vanessa was the mother of Randall. She cut back on her work shift to be home at night with her son. She was also active at school and took him to Faith Temple church. She later married Julien Lowe.
Vanessa came to the Barn after Randall was arrested for shoplifting. When Julien Lowe told her what had happened, including that he was seen painting graffiti, she was frustrated. Julien decided to admonish Randall with his promise that he would stay out of trouble. Vanessa thanked him for it, and Julien took the moment to ask her out on a date. She accepted and left.
Vanessa and Julien continued dating which led to Julien proposing marriage to her. They set the date of the wedding to be approximately six weeks after meeting. One day, she came by the Barn to pick him up. As she was looking for him, she stumbled upon Danny in the mess hall. Vanessa told her they were supposed to go over flower arrangements that evening and Danny congratulated her. Vanessa told her how everything was happening so fast and how excited she was. At that moment, Julien arrived and after kissing, they left.
One day, Vanessa stopped by the Barn and brought lunch to Julien. While they were eating, she told him she would bring Randall later for him to take care of, while she went to have dresses fitted. After that, Julien felt guilty and confessed to her that his church meetings weren't bible studies, but part of his sexual reorientation program. As she sat in disbelief, he accepted to her that he had felt attracted to men before. However, he told her he was straight now and that he loved her. Hurt, she left the Barn asking him for time to think.
Despite this, she stopped by to leave Randall with him. Later that day, she came by to pick him up and saw Julien drawing with him. After sending Randall with his grandmother, she told Julien that she believed him and believed in the power of God to change him. She then asked him to kiss her, and they hugged.
When Julien was set to appear in a press conference with Captain Aceveda, Vanessa went to the Barn to be with him. While they were preparing for it, Tomas Motyashik arrived wanting to talk to Julien. Julien, nervously introduced Vanessa as his wife to Tomas. When Tomas insisted on talking with Julien in private, he told Vanessa to wait a moment.
Some nights later, Vanessa, Julien and Randall finished having dinner at their home. As they were cleaning up, they talked about how Danny Sofer had been fired unjustly. Julien then went to the backyard to take out the trash when Paul Jackson, Ray Carlson, and others gave him a "blanket party". When Randall found him, he called for Vanessa to help him.
Appearances
Edit
| | |
| --- | --- |
| Season 3 | Playing Tight · Blood and Water · Bottom Bitch · Streaks and Tips · Mum · Posse Up · Safe · Cracking Ice · Slipknot · What Power Is... · Strays · Riceburner · Fire in the Hole · All In · On Tilt · |
Ad blocker interference detected!
Wikia is a free-to-use site that makes money from advertising. We have a modified experience for viewers using ad blockers

Wikia is not accessible if you've made further modifications. Remove the custom ad blocker rule(s) and the page will load as expected.