This is a list of unnamed gang members with spoken lines and/or credited actors seen on The Shield.
Season 1
Edit
Gang leader
Edit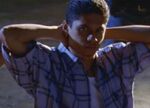 This was one of the gang leaders of Los Magnificos. He was beating up Olman as part of his initiation when the Strike Team and the Farmington police arrived. After they checked them, Vic Mackey left a Strike Team card in front of him.
Toros' gang members
Edit
These Toros gang members were present at a gun shop practicing at the target range. After George Michael Klassen practiced himself, he went booth by booth shooting all the gang members and the owner.
Older Armenian
Edit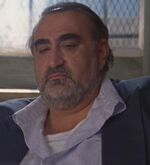 This member of the Armenian Mafia was arrested by the Strike Team, along with Margos Dezerian, during a drug bust. Detective Claudette Wyms tried to interrogate him, but he refused to speak. After he was put back in the cage, Dezerian broke the neck of another prisoner and this Armenian simply watched in silence.
Season 2
Edit
Street hustler
Edit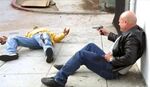 This small-time criminal was seen armed with a pistol and was presumably doing business with Fleetwood Walker. This man continued shooting at a wounded Vic Mackey as Fleetwood and his bodyguard were seen getting into a get-away truck. Vic wounded him and later got back up, reloaded his firearm and returned fire, shooting and killing this man.
Mexican at Armadillo's hideout
Edit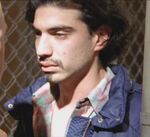 This Mexican was part of Armadillo Quintero's gang. He and other gang members were at one of Armadillo's hideout until the Strike Team arrived. Vic Mackey arrested him and took him to the Barn. When he put him inside the cage, he defiantly looked at Vic refusing to budge. When Vic asked him to move, Shane Vendrell pushed him inside and closed the gate.
Pinto's friend
Edit
This Mexican was one of Armadillo Quintero's men, along with Pinto, that attacked Van Bro and took his wheelchair. After Van Bro gave Vic the license plate of their truck, he and the Strike Team tracked them to a house. When he refused to give Armadillo's location, Shane hit him in the legs with a crowbar convincing his friend Pinto to talk.
Armenian mobster
Edit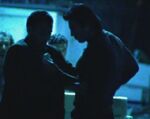 This mobster for the Armenian Mafia was contacted by Armin Chorekian to murder some of the Armenian workers that were stealing from the operation. The mobster arrived at the location of the Money Train and started arguing with the thieves. As he asked for explanations, he threw some of them on the floor and shot two of them in the head. He then left the scene.
Season 7
Edit
Santi's girlfriend
Edit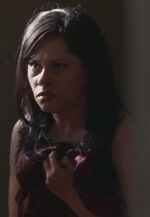 Santi's girlfriend went with him to meet with a member of the Mexican drug cartel, but had to wait in the car. Later, when Vic Mackey and Ronnie Gardocki were looking for Santi, they found them having sex in a room. After Mackey beat Santi for information, she confessed about the meeting. Since Santi was bitten by a snake in the struggle, they advised her to start sucking the poison out as they left them.
Ad blocker interference detected!
Wikia is a free-to-use site that makes money from advertising. We have a modified experience for viewers using ad blockers

Wikia is not accessible if you've made further modifications. Remove the custom ad blocker rule(s) and the page will load as expected.