Tyrez Wallace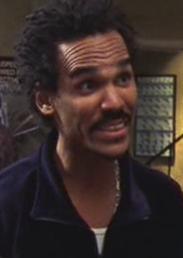 Appeared in
{{{Appearances}}}
Mentioned in
{{{Mentioned}}}
Tyrez "Spank" Wallace was a pimp and Tori Burke's boyfriend.
Before Season 5
Edit
Wallace met Tori Burke some time after her fiance left her. He started courting her and the two began a relationship. Aside of that, he also had her work as a prostitute for his profit.
When Tori was signaled as a prostitute by the man who attacked her, she called Wallace. He arrived at the Barn pretending to be her legal counsel and Officer Paula took him up to the interrogation room where she was being held.
As Dutch spoke with Captain Claudette Wyms downstairs, Wallace and Tori started having sex in the interrogation room until Claudette stepped in and caught them. He then boasted to Dutch how in love she was with him to the point of not giving him up for the robbery.
Since Gilbos couldn't identify Wallace, and Tori wouldn't testify against him, Wallace was released without charges.
Appearances
Edit
Ad blocker interference detected!
Wikia is a free-to-use site that makes money from advertising. We have a modified experience for viewers using ad blockers

Wikia is not accessible if you've made further modifications. Remove the custom ad blocker rule(s) and the page will load as expected.