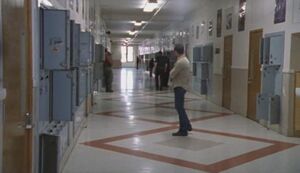 Truman East Middle School was a school on the Farmington district where Armadillo Quintero dealt heroin.
Duardo, one of Armadillo Quintero's men, gave Felipe Gomez samples of heroin to distribute free to the students of Truman East. Felipe then stood by one of the entrances to the school and gave the free samples to all of the students. Enrique, one of them, was captured with it.
When Vic Mackey went to the school to check everything, the police found out that hundreds of children had drugs in their lockers. This prompted reporters to go to the scene. When Captain David Aceveda arrived, they assembled all of the involved students in the school gym.
The school team is called the Junior High Tigers. Its logo is visible at the gym wall.
Appearances
Edit
Ad blocker interference detected!
Wikia is a free-to-use site that makes money from advertising. We have a modified experience for viewers using ad blockers

Wikia is not accessible if you've made further modifications. Remove the custom ad blocker rule(s) and the page will load as expected.