Tommy Hisk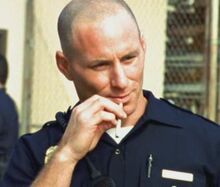 Appeared in
{{{Appearances}}}
Mentioned in
{{{Mentioned}}}
Profession
Police officer II
Affiliation
Farmington Division
Tommy Hisk was a Los Angeles Police Department officer working at the Barn in Farmington.
Before Season 3
Edit
After Danny Sofer was fired from the Barn, Julien Lowe was partnered with Tommy Hisk.
When Arno started beating the door of a neighbor with a bat, because he allegedly was looking at his wife's window, Tommy and Julien arrived to stop the fight. Tommy started cuffing Arno, while Julien held the neighbor inside. When a kid sneaked by Julien, Tommy blasted him and asked him if he was working alone. Tommy then went after the kid while Julien watched over Arno.
The next day, when the Strike Team called for back-up to intervene in a gun deal, Tommy and Julien were among the ones that arrived. As they prepared to get in, Tommy ordered Julien to go through the back while he went through the front. Tommy and the other officers managed to capture the gang members that were inside and arrest them.
Some days later, Tommy and Julien where pursuing a criminal through the streets of Farmington. As they ran through the street, the man sought hiding inside a church. When Tommy came inside the church, Julien was beating the man to subdue him, in front of the pastor. Tommy helped him and they took him outside and arrested him.
Later that day, Tommy, Julien and another officer were outside the Barn talking, when Danny Sofer approached them. When she told them that he had gotten her job back, they both congratulated her.
Tommy and Julian worked well together until Julien was sent back to work with Danny Sofer since the quality of his police work seemed to be affected by his beating at the end of season two.
Later on, Hisk's ex-wife and son were killed in a robbery. During his interrogation, Hisk denied any knowledge about who may have done the murder act.
When it was discovered that the murderer was a drug addict Hisk had hired to steal a collection of coins from the house a week earlier, Hisk was fired. Hisk later resurfaced to try and get his job back with no success.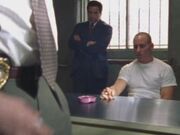 Now being left without a family or a job and having nothing to lose, Hisk locked himself in his car outside the station and was about to commit suicide when he was interrupted by Officer Sofer who tried to convince him not to kill himself. Shen then promised to try to get his work back and entered the Barn to inform everyone of Hisk's suicidal intentions. Regardless, Hisk shot himself in the head, killing himself.
Aftermath
Edit
Although no one at the Barn was now fond of Hisk and Sofer herself called Hisk infront her colleagues a "coward" for not being brave enough to face his problems, she was clearly distraught, sad and shocked over the way Hisk's life ended.
Appearances
Edit