Tito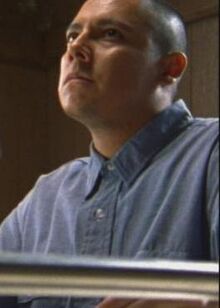 Appeared in
{{{Appearances}}}
Mentioned in
{{{Mentioned}}}
Tito was a dealer who killed the Veneza family after a faux drug deal.
Tito and Fernando broke into the Veneza family's house and Tito held the father's head underwater to make him admit to where his stash of $35,000 was. However, as he was doing so, he died. Tito panicked and drowned the rest of the family before forcing Fernando to drown the youngest son, a three-year old boy. Fernando couldn't do it, and he was stashed at Fernando's house. Tito was later arrested after Fernando confessed the situation to Dutch and Claudette.
Appearances
Edit
Ad blocker interference detected!
Wikia is a free-to-use site that makes money from advertising. We have a modified experience for viewers using ad blockers

Wikia is not accessible if you've made further modifications. Remove the custom ad blocker rule(s) and the page will load as expected.