Tereza Varela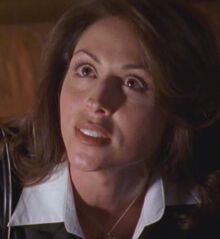 Appeared in
{{{Appearances}}}
Mentioned in
{{{Mentioned}}}
Tereza Varela was a reporter for La Unidad, a Latin newspaper. After an article she wrote on David Aceveda was rejected, she went freelance.
Tereza arrived at the Barn to write an article about Captain David Aceveda. As part of her investigation, she started interviewing people around the Barn. One of the persons she interviewed was Detective Claudette Wyms, who spoke highly of Aceveda's effectiveness. However, she also seemed interested in reports of excessive force from the Strike Team. She also approached Detective Vic Mackey, who showed her the room where they watched the surveillance cameras of the interrogation rooms. When she brought up the claims of excessive force with him as well, Aceveda stepped in and asked to speak with Mackey alone.
After that, Mackey and Aceveda met with her in Aceveda's office. They asked Tereza to ask whatever she was after. Again, she brought up the claims of excessive force and asked Aceveda if promoting the use of force wasn't a tactic to increase his crime statistics. She then brought up some charges of alleged rape Aceveda had 15 years ago against a woman called Maureen Wilmore. Aceveda asked Mackey to leave and asked Tereza why she was bringing that out. She told him she was interested in how people would perceive someone with a history of violence as captain of police, who also wanted to be in City Council. Aceveda refused to talk about it and she left.
At some point, she interviewed Maureen Wilmore. When she took the article to La Unidad, they rejected it after Jorge Machado used his influences. Varela then decided to leave the newspaper and go freelance. He then sold the article about David Aceveda to the Times, and threatened him to release another one about the controversy with the Nation of Islam. Varela also convinced Maureen Wilmore to use a wire to record David with her, telling her it was the only way they would publish the story. However, Aceveda found the wire and left Maureen's home.
Appearances
Edit
| | |
| --- | --- |
| Season 1 | Pilot · Our Gang · The Spread · Dawg Days · Blowback · Cherrypoppers · Pay in Pain · Cupid & Psycho · Throwaway · Dragonchasers · Carnivores · Two Days of Blood · Circles · |
Ad blocker interference detected!
Wikia is a free-to-use site that makes money from advertising. We have a modified experience for viewers using ad blockers

Wikia is not accessible if you've made further modifications. Remove the custom ad blocker rule(s) and the page will load as expected.