Taylor Orrs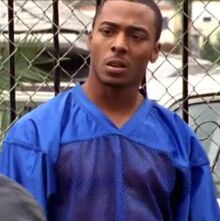 Appeared in
{{{Appearances}}}
Mentioned in
{{{Mentioned}}}
Taylor Orrs was a dealer of stolen goods that dealt with Fleetwood Walker. He had been arrested twice but started helping the Strike Team and became their informant.
Detective Vic Mackey and Joe Clark found Taylor selling stolen clothes to some ladies in the street. They took him away and threatened to send him to jail if he didn't cooperate with them. Vic then gave him a fabricated statement for him to sign. When he asked how he could help them, Vic and Joe asked him where did Fleetwood had his merchandise. Taylor gave them the information and was released.
Some time later, Vic and Shane approached him again as he was selling on the street. Vic showed him pictures of some stolen diamonds and asked him if he knew who could be moving them. Taylor told him he didn't know about that, but Vic told him to find out and let him know. As they were talking, Shane took a boombox Taylor was selling. When Taylor complained that informants usually get paid, Vic gave him some money and left.
Appearances
Edit
| | |
| --- | --- |
| Season 2 | The Quick Fix · Dead Soldiers · Partners · Carte Blanche · Greenlit · Homewrecker · Barnstormers · Scar Tissue · Co-Pilot · Coyotes · Inferno · Breakpoint · Dominoes Falling · |
| | |
| --- | --- |
| Season 4 | The Cure · Grave · Bang · Doghouse · Tar Baby · Insurgents · Hurt · Cut Throat · String Theory · Back in the Hole · A Thousand Deaths · Judas Priest · Ain't That a Shame · |
Ad blocker interference detected!
Wikia is a free-to-use site that makes money from advertising. We have a modified experience for viewers using ad blockers

Wikia is not accessible if you've made further modifications. Remove the custom ad blocker rule(s) and the page will load as expected.