T-Bonz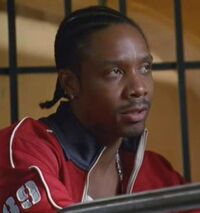 Appeared in
{{{Appearances}}}
Mentioned in
{{{Mentioned}}}
Profession
Rapper, Drug dealer
T-Bonz was a rapper turned drug dealer. He was Kern Little's rival.
Before Season 1
Edit
T-Bonz was on Kern Little's record label. When he started selling a lot of records, he decided to split and start his own label. He had Tyesha as one of his artists, and she also became his girlfriend. When Tyesha decided to sign with Kern, T-Bonz felt that they owed him money for her record sales.
T-Bonz showed up at Chez Club during the release party of Kern Little's album. He started demanding his money from him, but was taken out by security. Before he left, some of his thugs opened fire on the crowd, resulting in two fatalities. This became intense when T-Bonz had some more thugs kill four of Rondell Robinson's dealers on the street, with an innocent boy as a victim as well.
Vic Mackey decided to end the war and he had them both meet at the Barn to settle their feud. When they couldn't, Vic ordered a cease-fire between the two, and told Kern to bring the numbers he wanted the next day, and he would decide. T-Bonz and Kern still threatened themselves during the meeting. When Tyesha's dog, Rocco, was poisoned, she and Kern went to the Barn to ask Vic to do something about it.
To end it all, Vic took T-Bonz to an abandoned container site and brought Kern with him. However, he decided to force them both inside a container, telling them to make peace. When Vic and Lem came back the next morning, they found out Kern had killed T-Bonz.
Appearances
Edit
Ad blocker interference detected!
Wikia is a free-to-use site that makes money from advertising. We have a modified experience for viewers using ad blockers

Wikia is not accessible if you've made further modifications. Remove the custom ad blocker rule(s) and the page will load as expected.