Sweetpea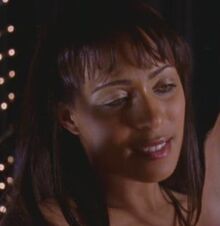 Appeared in
{{{Appearances}}}
Mentioned in
{{{Mentioned}}}
Sweetpea was a dancer/stripper.
During a Strike Team investigation on a series of assaults at strip clubs, Detective Vic Mackey went into the club to investigate. Sweetpea took him to a private room where she danced to him. She then invited him to a nearby alley so they could be more private. As the Strike Team listened through a wire, they heard Mackey and Sweetpea engaging in some sort of sexual activity. After some time, Mackey left and she returned to the club.
Appearances
Edit
Ad blocker interference detected!
Wikia is a free-to-use site that makes money from advertising. We have a modified experience for viewers using ad blockers

Wikia is not accessible if you've made further modifications. Remove the custom ad blocker rule(s) and the page will load as expected.