Street hustler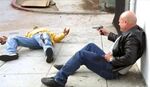 Appeared in
{{{Appearances}}}
Mentioned in
{{{Mentioned}}}
Also known as
Street hustler
Street hustler (real name unknown) was a small-time criminal and a possible associate of Fleetwood Walker.
Joe Clark approached his former partner Vic and asks him to help make a criminal case against Fleetwood Walker, the man who cost him his life. Vic was initially unsure, but agreed after seeing Walker deliberately provoke and taunt Joe. Watching Joe, Vic realized that he was in danger of ending up like his former partner: alone and without a job, pension, or friends and family.
During the bust, Vic was shot and wounded by Walker, and Joe left to go kill the shooter. Street hustler continued shooting at a wounded Vic Mackey as Fleetwood and his bodyguard were seen getting into a get-away truck. After a chase, Vic wounded him and later got back up, quickly reloaded his firearm and shot Street hustler again, killing him.
Aftermath
Edit
After the shooting, Vic begged Shane to find Walker first which Shane managed to do and Joe Clark got his revenge.
Ad blocker interference detected!
Wikia is a free-to-use site that makes money from advertising. We have a modified experience for viewers using ad blockers

Wikia is not accessible if you've made further modifications. Remove the custom ad blocker rule(s) and the page will load as expected.