Slap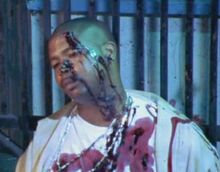 Appeared in
{{{Appearances}}}
Mentioned in
{{{Mentioned}}}
Slap was Kern Little's bodyguard during Season 3.
Kern Little hired Slap to protect him as he started to take control of the One-Niners in Farmington. Slap was with Kern when Detectives Vic Mackey and Shane Vendrell went by Kern's nigthclub to interrogate him. As Vic approached Kern, Slap stood up between them. Kern told him it was ok and Slap sat down again.
The next night, Slap was on the street when a group of Byz Lats shot him down killing him instantly.
Appearances
Edit
Ad blocker interference detected!
Wikia is a free-to-use site that makes money from advertising. We have a modified experience for viewers using ad blockers

Wikia is not accessible if you've made further modifications. Remove the custom ad blocker rule(s) and the page will load as expected.