Simpkins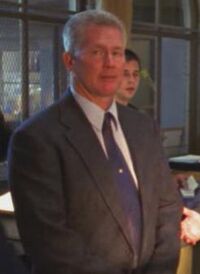 Appeared in
{{{Appearances}}}
Mentioned in
{{{Mentioned}}}
Simpkins was an Internal Affairs detective. His partner was Detective Branning.
Detectives Branning and Simpkins, of Internal Affairs, were called to investigate an allegation that Officer Danny Sofer, from the Barn, was dealing marihuana from his car.
They went to the Barn and asked Sofer if they could ask her a few questions. When they told her about the allegations, Danny thought that this was Yassirah Al-Thani's doing trying to ruin her career. Branning and Simpkins understood her, but told her that under new regulations they were obligde to investigate every allegation. They then asked her if they could check her car. Branning and Simpkins followed her outside and started checking her car.
While checking under the seat, they found a bag of four ounces of marihuana. Danny got angry and told them that Yassirah might've put it there when she vandalized her car. Still, Branning and Simpkins told her that they would have to file it.
Appearances
Edit
Ad blocker interference detected!
Wikia is a free-to-use site that makes money from advertising. We have a modified experience for viewers using ad blockers

Wikia is not accessible if you've made further modifications. Remove the custom ad blocker rule(s) and the page will load as expected.