Shades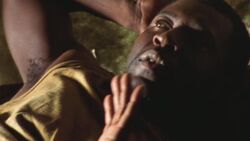 Appeared in
{{{Appearances}}}
Mentioned in
{{{Mentioned}}}
Shades was the owner of a crack house that was in front of Barbara Hisk's house. He received his merchandise from Darontay.
One night, Darontay arrived at the crack house to make a delivery. Shades saw that Barbara was nearby, writing down Shades license plate. Shades then found out that Darontay threatened Barbara to leave the house.
The day that Barbara and her son, Jeff, were killed, Shades was at the crack house getting high. Suddenly, Detective Vic Mackey broke in with Officer Julien Lowe. Mackey threw him in the couch and, while pointing a gun at him, inquired about the deaths of the Hisks. Threatened, Shades told him about Darontay's feud with Barbara.
Appearances
Edit
Ad blocker interference detected!
Wikia is a free-to-use site that makes money from advertising. We have a modified experience for viewers using ad blockers

Wikia is not accessible if you've made further modifications. Remove the custom ad blocker rule(s) and the page will load as expected.