Season 1

[[Image:||center]]
Aired
March 12, 2002 - June 4, 2002
Slogan
The road to justice is twisted
Season 1 of The Shield began in March 12, 2002 on the FX Network. It was created by Shawn Ryan and consists of 13 episodes.
The Shield: The Complete First Season was released on DVD in North America on January 7, 2003.
David Aceveda is assigned as new captain of the Barn in the district of Farmington. One of his top priorities is to successfully prosecute Detective Vic Mackey, leader of the experimental anti-gang unit called the Strike Team. Aceveda suspects Mackey is involved in corrupt illegal activities favoring drug dealer Rondell Robinson to control local drug trade. To capture him, Aceveda asks the new member of the team, Terry Crowley, to gather evidence for his prosecution. Although reluctantly, Crowley agrees not knowing that Mackey already knows about his intentions.
During a raid on Two-Time's house (a drug dealer rival of Rondell), Mackey uses the dealer's gun to murder Crowley with Shane Vendrell as his only witness. After this, Aceveda is certain that Mackey had something to do with the murder so he starts an internal investigation of Mackey and the Strike Team. Meanwhile, Shane has to deal with the guilt of what they just did, while Assistant Chief of Police Ben Gilroy tries to cover Mackey's tracks.
Also, rookie officer Julien Lowe trains under officer Danny Sofer, while also struggling with his latent homosexuality. Lowe, a devout Christian, is afraid of facing his desires so he tries to hide them. Lowe also has to deal with the tension between him and his partner, Danny. Lowe also witnesses a crime committed by Vic and the Strike Team, which Aceveda uses again to try to capture Mackey.
Finally, detectives Dutch Wagenbach and Claudette Wyms try to track down an elusive serial killer who Dutch thinks is responsible for at least four murders. While Dutch gets obsessed with the case, Claudette frequently tries to divert his attention to their other cases.
Season 1 begins four months after the inauguration of the "Barn". Although no timeline is specified, it appears to cover a period of roughly a month or two.
The season follows a few main plots and several subplots:
The aftermath of Vic Mackey's murder of Detective Terry Crowley, and his attempts of covering it up from Captain David Aceveda.
Captain Aceveda's attempts of capturing Vic Mackey, first by Crowley's murder and then because of cocaine theft.
Officer Julien Lowe's struggle with homosexuality, while pursuing a relationship with a petty thief.
Detectives Dutch Wagenbach and Claudette Wyms attempt to capture a serial killer.
Major subplots
Edit
The failing marriage of Vic and Corrine Mackey, as well as Vic's adulterous relationship with Officer Danny Sofer.
Vic's use of drug dealer Rondell Robinson to maintain control of local drug trade.
Tension between Julien Lowe and his training officer, Danny Sofer.
Aceveda's attempt to maintain power at the Barn and his initial steps en route to the City Council.
Production
Edit
Show creator Shawn Ryan had the idea of the pilot episode for some time. He claims that the script was an intentional departure of what he had wrote for the show Nash Bridges, where he worked as a writer for three years. Ryan has said that he never thought any network would make it, but FX Network agreed to work with him.
After reaching an agreement with FX, Ryan received a budget of $1.3 million per episode, which was below the usual budget for a network show. Ryan approached director Clark Johnson to work with him directing the pilot. Ryan had been on police "ride-alongs" as part of his preparation on writing "Nash Bridges", so he told Johnson that he wanted "the viewer to feel like they're on a police ride-along". Johnson had worked with the police as well as part of the cast and crew of shows like "Homicide: Life on the Street" and "The Wire".
The pilot episode of The Shield was filmed in early 2002. Promotional clips for the show heavily featured actor Reed Diamond on his role of Detective Terry Crowley. This was done intentionally to heighten the surprise of his death in the same episode. The episode aired in March 12, 2002 and many critics praised the boldness of it. The entire season finished airing in June 4, 2002.
The entire season was first released on DVD on January 7, 2003 by Fox. The season was re-released by Sony Pictures on March 25, 2008.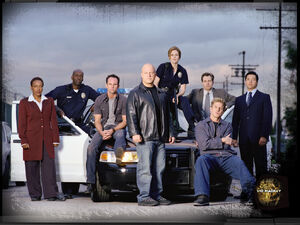 Main cast
Edit
Guest and recurring stars
Edit
* Both Goggins and Johnson appear in only 10 episodes, but are credited in all 13.
Picture
Title
#
Prod. code
Original airdate
"Pilot"
1
101
March 12, 2002
Four months into the "Farmington Project", Detective Vic Mackey and his Strike Team prepare to take down a major drug dealer who has never before been caught with product. Meanwhile, following a homicide, Detectives Wyms and Wagenbach discover that a child is missing, sold to a pedophile by her drug-addicted father. Captain David Aceveda installs Detective Terry Crowley as a new member of the Strike Team in order to have an inside man to root out their corruption.
"Our Gang"
2
102
March 19, 2002
After the death of a member of the Strike Team on a high-risk raid, Aceveda begins to investigate the real circumstances behind the raid. Officers Lowe and Sofer find a dying man being mugged, eventually linked to a Mexican gang.
"The Spread"
3
103
March 26, 2002
It's Sweep-day on the Farm, with all outstanding warrants to be served. Mackey and the Strike Team move to take down an old foe, arresting a basketball star in the process, seeing a chance to affect sports history and make some money in the process.
"Dawg Days"
4
104
April 2, 2002
A gunfight breaks out in a crowded club between two local rappers which could potentially start a gang war. To further complicate matters, one of Mackey's contacts was involved in the shootout. Mackey and the Strike Team try to prevent the conflict from escalating.
"Blowback"
5
105
April 9, 2002
Aceveda insists that Mackey take uniformed cops in with them to bust an Armenian gang's drug delivery. After the bust, Margos Dezerian is caught among the Armenian gang and Lowe sees the Team take a portion of the drugs for themselves. But in the end Vendrell ends up having the drugs and the vehicle they're in stolen from them. While the search for the drugs and the truck goes on, Mackey learns that his son is autistic.
150px
"Cherrypoppers"
6
106
April 16, 2002
When the body of a young hooker is found in the district, Wagenbach and Wyms get the full resources of the Barn for 24 hours and the help of the FBI to search for Wagenbach's serial killer. Meanwhile, The Strike Team busts an underage prostitution ring, and Capt. Aceveda continues to investigate Mackey.
"Pay in Pain"
7
107
April 23, 2002
When Mackey and Vendrell hook up with a cop from another precinct to investigate the shooting, Vendrell sets off an explosive confrontation with a suspect by making a racial slur; fortunately, Mackey defuses the situation. Wagenbach and Wyms search for a serial killer and bring in a psychic on a complaint from the son of one of her clients, and Aceveda calls internal affairs after getting Lowe's affidavit.
"Cupid & Psycho"
8
108
April 30, 2002
Allegations against the Strike Team are front-page news, and the team is broken up pending the investigation. Mackey threatens to reveal that Officer Lowe is gay if he won't recant his statement about the Strike Team. In the meantime, Mackey and Wyms find themselves following the trail of a batch of "cupid" meth, while Vendrell and Wagenbach try to get along on a case.
"Throwaway"
9
109
May 7, 2002
A planted gun in a truck-jacking case causes complications for the Strike Team, and now they're left to clean up their own mess. The rift between Officers Lowe and Sofer deepens, causing Aceveda to intervene. Wyms deals with the mess of her family during a visit from her daughter.
"Dragonchasers"
10
110
May 14, 2002
Mackey helps Connie quit her crack addiction by going cold-turkey in her desperate attempt to keep her son, leaving Vendrell and Lemansky to investigate a strip-club mugging ring. Wagenbach follows his instincts on a serial killer case and Sofer is bitten by an HIV-infected perpetrator.
"Carnivores"
11
111
May 21, 2002
The Strike Team mediates a dispute between Rondell Robinson and the Nation of Islam while Wagenbach and Wyms investigate a brutal home invasion in the tight lipped Korean community. Aceveda revisits his past.
"Two Days of Blood"
12
112
May 28, 2002
While Mackey answers Assistant Chief Gilroy's call for help in covering up a hit and run before Wagenbach intuits the facts of the case, Vendrell and Lemansky follow the trail of a gunrunner with a penchant for cockfights. Aceveda turns to Wyms after a double homicide raises ire and fear within an ignored community.
"Circles"
13
113
June 4, 2002
In the aftermath of a riot, cops are being lured into ambush shootings by a rash of bogus 911 calls. Mackey and Captain Aceveda must work together to stop these attacks and solve the problems in The Grove, while Assistant Chief Gilroy tries to pit the two against each other to save his own job.
Although Walton Goggins is credited in all episodes, his character, Shane Vendrell, doesn't appear in three of them. This is the only season where this occurs, since he appears in all the remaining episodes of the show. Something similar happens to Kenneth Johnson, whose character, Curtis Lemansky, also doesn't appear in three of them despite being credited in all.