Sarah Fain was a writer and producer of The Shield. 
Fain has also written for show such as Dollhouse, The Vampire Diaries, and The 100. Fain also worked with Shawn Ryan on Lie to Me and Angel.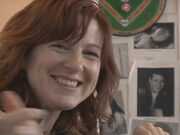 Fain provided DVD audio commentary for the following episodes:
Season 4
Season 5
Season 6
External links
Edit
Ad blocker interference detected!
Wikia is a free-to-use site that makes money from advertising. We have a modified experience for viewers using ad blockers

Wikia is not accessible if you've made further modifications. Remove the custom ad blocker rule(s) and the page will load as expected.