Robbie Villanueva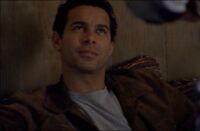 Appeared in
{{{Appearances}}}
Mentioned in
{{{Mentioned}}}
Robbie Villanueva was a Los Angeles Police Department detective.
Before Season 2
Edit
Robbie joined the Marines when he was young because he needed the discipline. He did a short tour in Bosnia and received decorations. He then joined the police and spent three years on Vice Division and one year on Narcotics Division. He also spent a little time undercover when he first joined the force.
Robbie was married and had a four-year old son.
When Captain David Aceveda started looking for a minority officer to put in the Strike Team, he came upon Robbie's application. He then presented him to Detective Vic Mackey so he could interview him. Mackey led Robbie to the team clubhouse and commented about his file and what he had done.
After seeing he was married with children, Mackey commended him for his bravery in joining the team at that moment. When Robbie asked him what he meant, Vic told him that the whole team had been recently "greenlit" by a Mexican ganglord. After they finished the interview, Robbie decided to withdraw his application for the position.
Appearances
Edit
Ad blocker interference detected!
Wikia is a free-to-use site that makes money from advertising. We have a modified experience for viewers using ad blockers

Wikia is not accessible if you've made further modifications. Remove the custom ad blocker rule(s) and the page will load as expected.