Raoul Jimenez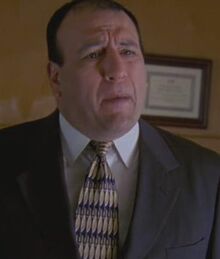 Appeared in
{{{Appearances}}}
Mentioned in
{{{Mentioned}}}
Raoul Jimenez was an activist for Latino human rights. He was known for being boisterous and very dedicated to his protection of the Latino race. Detective Vic Mackey questioned his motives, claiming Jimenez was more interested in generating publicity for himself.
When a massacre against Latinos in and around Farmington ensued, Jimenez went to the Barn to ensure that whoever did it was arrested. He met with Assistant Chief Ben Gilroy and pressured him for results in the investigation. When it was revealed that some Latino store owners had captured the killer and handed him to The Toros for revenge, Jimenez told Vic Mackey he'll make sure they wouldn't serve a single day in jail. Mackey agreed that Jimenez was probably correct.
That same night, Captain David Aceveda met with Jimenez in his car and gave him the file on the Internal Affairs' investigation on Vic Mackey, expecting him to leak it to the press.
Appearances
Edit
Ad blocker interference detected!
Wikia is a free-to-use site that makes money from advertising. We have a modified experience for viewers using ad blockers

Wikia is not accessible if you've made further modifications. Remove the custom ad blocker rule(s) and the page will load as expected.