Randall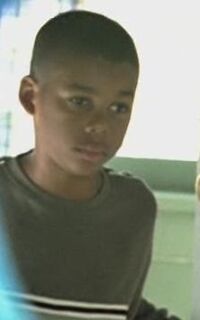 Appeared in
{{{Appearances}}}
Mentioned in
{{{Mentioned}}}
Randall was the son of Vanessa. Randall was arrested and brought to the Barn for stealing and painting graffiti. After Officer Julien Lowe had a talk with him, he ended up inviting Randall's mother to a date. Eventually, they got married and Julien developed a strong bond with Randall, treating him like his own son.
Randall was arrested for trying to steal spray paint from a hardware store. The owner of the store told the officers that he had seen him and his friends painting graffiti in other buildings. Since they couldn't get ahold of his mother at the moment, he was taken to the Barn and put in the cage. When her mother, Vanessa, came looking for him, she asked him if what Officer Lowe was telling her was true. As Vanessa pleaded for help, Julien took Randall to one of the interrogation rooms and admonished him, trying to make sure he didn't do it again. After he was taken out, his mother told him to wait for her while she talked with Julien.
As months passed and Julien continued to date Vanessa, Randall developed a strong relationship with him. Vanessa even commented to Julien that Randall saw him as a father.
Some time after that, Vanessa stopped by the Barn to leave Randall with Julien while she went to have wedding dresses fitted. When she returned, Randall was drawing with Julien at the mess hall. He went to greet his mother and then Vanessa told him to wait with his grandmother while she talked with Julien.
After everyone at the Barn found out about Julien's homosexuality, he started being harassed; especially by Officers Paul Jackson and Ray Carlson. One night, one of them called at Julien's house and Randall answered the phone. He then told Randall about Julien's homosexuality. Randall then told Julien about the call. Some nights later, Randall finished eating with Vanessa and Julien. As they washed the dishes, Julien went out to the backyard to throw the trash. While out there, Jackson, Carlson, and other officers ambushed him and gave him a "blanket party". As Julien lay injured and bleeding, Randall went out and found him. He then called for Vanessa to help him.
During a heated argument between Julien and Vanessa, Randall got scared and called 911 from his room. Officers Danny Sofer and Lucas responded to the call and questioned Randall about the incident. Vanessa explained that the argument was nothing and that Randall was just scared.
Appearances
Edit
| | |
| --- | --- |
| Season 3 | Playing Tight · Blood and Water · Bottom Bitch · Streaks and Tips · Mum · Posse Up · Safe · Cracking Ice · Slipknot · What Power Is... · Strays · Riceburner · Fire in the Hole · All In · On Tilt · |
Ad blocker interference detected!
Wikia is a free-to-use site that makes money from advertising. We have a modified experience for viewers using ad blockers

Wikia is not accessible if you've made further modifications. Remove the custom ad blocker rule(s) and the page will load as expected.