Radiohead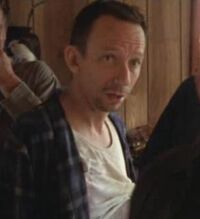 Appeared in
{{{Appearances}}}
Mentioned in
{{{Mentioned}}}
Radiohead was an acquaintance of Vic Mackey and the Strike Team. He had equipment and knowledge to trace phone calls at his house which he used to trace calls for the Baja Diablo cartel.
When the Vic Mackey and the Strike Team were looking for ways to locate Armin Chorekian, they went to Radiohead. When they arrived at his house, they were overwhelmed by the stench. Radiohead came out of his room and told them that he had his water shut down a month ago and hadn't taken a bath since. Vic then asked him if he could trace the location of a cellphone with the number, and Radiohead told him he could. Vic then asked Ronnie Gardocki to stay with Radiohead while they went away. After they left, Radiohead manage to trace the cellphone to a mostly abandoned industrial area.
Appearances
Edit
Ad blocker interference detected!
Wikia is a free-to-use site that makes money from advertising. We have a modified experience for viewers using ad blockers

Wikia is not accessible if you've made further modifications. Remove the custom ad blocker rule(s) and the page will load as expected.