Pinto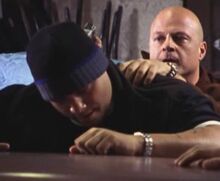 Appeared in
{{{Appearances}}}
Mentioned in
{{{Mentioned}}}
Pinto was a member of the Torrucos gang.
Pinto and another Mexican attacked Van Bro and stole his wheelchair after they found out he was giving information to the police. However, Van Bro managed to get the license plate on their truck, allowing the Strike Team to track them down. After finding them in a house, Shane Vendrell beat up Pinto's friend with a crowbar which prompted Pinto to reveal Armadillo Quintero's location. They took him with them and when they arrived at the place, they handcuffed him to a tree. Right before the team entered the house, Claudette Wyms and the police arrived and Armadillo surrendered. Pinto was taken with him to the Barn.
Appearances
Edit
Ad blocker interference detected!
Wikia is a free-to-use site that makes money from advertising. We have a modified experience for viewers using ad blockers

Wikia is not accessible if you've made further modifications. Remove the custom ad blocker rule(s) and the page will load as expected.