Pete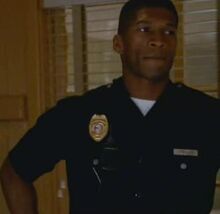 Appeared in
{{{Appearances}}}
Mentioned in
{{{Mentioned}}}
Profession
Police officer
You may be looking for Detective Pete Shockley.
Pete was a Los Angeles Police Department officer working with Assistant Chief Ben Gilroy.
After the shooting and murder of Officers Rudy, Chris, and Patrick, Assistant Chief Ben Gilroy arrived with Officer Pete at the Barn to take control of everything. As he took over Captain David Aceveda's office, he ordered Pete to bring him the case files and a cup of coffee. As he was walking away, Detective Vic Mackey came in and Ben told Pete to wait by outside in case he needed him. When Ben was finished with Mackey, Pete brought him what he wanted.
Appearances
Edit
Ad blocker interference detected!
Wikia is a free-to-use site that makes money from advertising. We have a modified experience for viewers using ad blockers

Wikia is not accessible if you've made further modifications. Remove the custom ad blocker rule(s) and the page will load as expected.