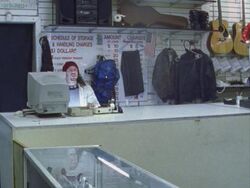 A pawn shop or pawn broker is a business or person that offers loans to people, with items of personal property as collateral.
After Deena stole the Strike Team's Lincoln Navigator from Shane Vendrell, she contacted her boyfriend, Freddie, who worked at a pawn shop called Pemble & Pemble. Freddie and his co-worker Antoine put the guns for sale, until Vic Mackey and Shane Vendrell came looking for them and the cocaine.
Some time later, Vic Mackey was looking for a stolen ring that belonged to Ms. Emerich, the director of Glenridge. She told Ronnie Gardocki to go to Felipe's pawn shop to see if he had it. Felipe told Ronnie that he didn't have it but that he would find it, and bet Ronnie $50 he could do it in 12 hours. Ronnie accepted the bet and ended up losing.
Dean Warrison had pawned some of his roommate's jewelry. When her boyfriend, Crazyhouse, came out of jail and asked about the gifts he had given her, Dean told him what he had done. Crazyhouse then forced Dean to drive them to the pawn shop. There he shot the owner and his son after taking back his jewelry.
When Shane Vendrell and Tavon Garris were investigating the stolen jewelry and the murders, Tavon went to Meaty's pawn shop, who had been his informant for some time. Meaty didn't have the stolen jewelry, but Shane found stolen guns on the shop and arrested him.
Ad blocker interference detected!
Wikia is a free-to-use site that makes money from advertising. We have a modified experience for viewers using ad blockers

Wikia is not accessible if you've made further modifications. Remove the custom ad blocker rule(s) and the page will load as expected.