Paula
Appeared in
{{{Appearances}}}
Mentioned in
{{{Mentioned}}}
Profession
Police officer
Paula was a Los Angeles Police Department officer working at the Barn in Farmington.
On "warrant sweep day", Paula exchanged her warrants with Danny Sofer taking one for Koreatown.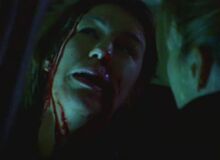 Some time later, Paula and her partner Rudy were responding to a call at Connor and Adelaide, trying to beat Officers Danny Sofer and Julien Lowe. They arrive first, but as they approached the place of the call, Sonny, Benji, and Twanya, started shooting at their car from one of the nearby buildings, killing Rudy and critically injuring Paula. When Danny and Julien arrived and noticed what was happening, Paula warned Danny that the shooters were above them, as they started shooting again. Danny managed to drag Paula out of the car and seek cover behind it, as they made the shooters retreat. When the back-up arrived, Paula was put in an ambulance and taken to the hospital.
When Connie Riesler returned to the Barn, Paula went to the Strike Team's clubhouse to tell Vic about her.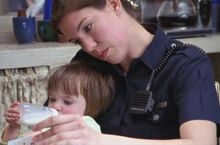 Another day, when Corrine Mackey arrived to the Barn with Cassidy and Megan, Claudette asked Paula to take care of the kids while she talked to Corrine. Paula took them to the mess hall and had them drawing and painting. When Vic Mackey arrived and saw them, he went to Paula and Cassidy told him what had happened.
Later that night, Danny Sofer came inside the Barn in shock and told Paula that she had tried to kiss Detective Dutch Wagenbach. Paula laughed at it but was surprised when Danny told her that he was the one that stopped her. At this moment, Little Pop stabbed Armadillo Quintero in the cage and Danny and Paula ran to help. When Paula entered the cage and check Armadillo, he was already dead.
Paula told Detective Dutch Wagenbach when Armin Chorekian arrived at the Barn with his family. Later, she also brought Dutch the package that Lyor Slavok had sent to Margos Dezerian.
Paula's radio code is "One Tango 19".
Appearances
Edit
| | |
| --- | --- |
| Season 1 | Pilot · Our Gang · The Spread · Dawg Days · Blowback · Cherrypoppers · Pay in Pain · Cupid & Psycho · Throwaway · Dragonchasers · Carnivores · Two Days of Blood · Circles · |
| | |
| --- | --- |
| Season 2 | The Quick Fix · Dead Soldiers · Partners · Carte Blanche · Greenlit · Homewrecker · Barnstormers · Scar Tissue · Co-Pilot · Coyotes · Inferno · Breakpoint · Dominoes Falling · |
| | |
| --- | --- |
| Season 7 | The Coefficient of Drag · Snitch · Money Shot · Genocide · Game Face · Animal Control · Bitches Brew · Parricide · Moving Day · Party Line · Petty Cash · Possible Kill Screen · Family Meeting · |
Ad blocker interference detected!
Wikia is a free-to-use site that makes money from advertising. We have a modified experience for viewers using ad blockers

Wikia is not accessible if you've made further modifications. Remove the custom ad blocker rule(s) and the page will load as expected.