Owen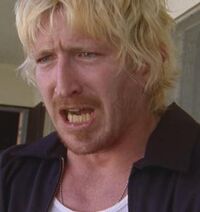 Appeared in
{{{Appearances}}}
Mentioned in
{{{Mentioned}}}
You may be looking for Owen Thigpen.
Owen was the husband or boyfriend of Blanca. They had a son called Evan. He was addicted to crack.
Owen went to Blanca's apartment when he was high. Because of the drugs, he felt as if their son, Evan, had fever. He took him from his mother and threatened to throw him in the apartment complex pool to "cool him down". At this moment, Vic Mackey arrived and tried to calm Owen. However, he still jumped in the pool with the baby. Mackey jumped in and saved the baby. He then arrested Owen and took him to the Barn.
Appearances
Edit
Ad blocker interference detected!
Wikia is a free-to-use site that makes money from advertising. We have a modified experience for viewers using ad blockers

Wikia is not accessible if you've made further modifications. Remove the custom ad blocker rule(s) and the page will load as expected.