Nina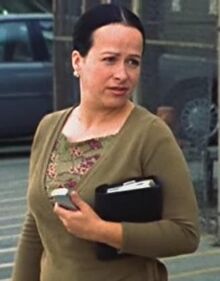 Appeared in
{{{Appearances}}}
Mentioned in
{{{Mentioned}}}
Profession
Administrative assistant
Nina was an administrative assistant at the Barn in Farmington.
Nina went to the Barn's parking lot and told Detective Vic Mackey that Captain David Aceveda was looking for him.
Some time later, Captain David Aceveda asked her to compare the money that a gang member had with some Treasury lists he had while looking for the Armenian stolen money. Nina offered herself to help her with other things in his political campaign, but Aceveda told her he already had a team for that. She later brought the list to Aceveda and informed her that two bills matched the list and left her the corresponding numbers.
Appearances
Edit
Ad blocker interference detected!
Wikia is a free-to-use site that makes money from advertising. We have a modified experience for viewers using ad blockers

Wikia is not accessible if you've made further modifications. Remove the custom ad blocker rule(s) and the page will load as expected.