Nathan Peterson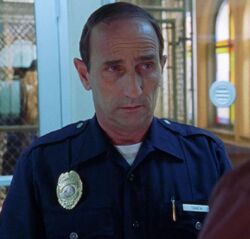 Appeared in
{{{Appearances}}}
Mentioned in
{{{Mentioned}}}
Nathan Peterson was a Los Angeles Police Department desk sergeant working at the Barn in Farmington.
Before Season 1
Edit
Nathan was one of the original officers at the Barn when it started operating. The first day, Detectives Vic Mackey and Shane Vendrell found out that their suspects had been released and Nathan told them that Captain David Aceveda had released them for insufficient evidence.
Later that day, Nathan closed the men's restroom after it broke. When Detective Tom Gannon asked him about it, Nathan told him to use the ladies' room and to try not to break that one as well. At night, Vic asked Nathan about the bathroom and he assured him that the plumber would come the next day.
After bringing Booty to the Barn, Mackey noticed the men restroom was still broken and he asked Peterson when it would be fixed. Peterson briefly told him to back off as he walked past Vic.
Several days later, on "warrant sweep day", Peterson had a hard time booking all the criminals that arrived. He complained to Captain David Aceveda about the excess of work, but Aceveda assured him he was doing well. However, he still presented his resignation letter that night. Although he argued with Aceveda that he wanted to train his replacement, Aceveda assured him they would manage.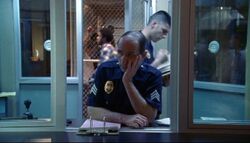 On a deleted scene for "The Spread", Peterson is seen at Aceveda's office complaining about several issues. However, Aceveda dismisses them arguing that he trusts Peterson to solve them.
Appearances
Edit
| | |
| --- | --- |
| Season 1 | Pilot · Our Gang · The Spread · Dawg Days · Blowback · Cherrypoppers · Pay in Pain · Cupid & Psycho · Throwaway · Dragonchasers · Carnivores · Two Days of Blood · Circles · |
| | |
| --- | --- |
| Season 2 | The Quick Fix · Dead Soldiers · Partners · Carte Blanche · Greenlit · Homewrecker · Barnstormers · Scar Tissue · Co-Pilot · Coyotes · Inferno · Breakpoint · Dominoes Falling · |
Ad blocker interference detected!
Wikia is a free-to-use site that makes money from advertising. We have a modified experience for viewers using ad blockers

Wikia is not accessible if you've made further modifications. Remove the custom ad blocker rule(s) and the page will load as expected.