Nancy Reborg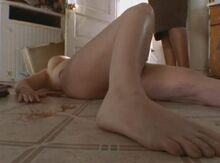 Appeared in
{{{Appearances}}}
Mentioned in
{{{Mentioned}}}
Nancy Reborg was the wife of Lonnie Reborg and the mother of Jenny. Lonnie and Nancy were separated or divorced.
Lonnie went to look for his daughter, Jenny. When Nancy refused to let her go, she took a knife, but Lonnie took it from her and killed her. Some time later, Officers Julien Lowe and Danny Sofer got the call and found the body, with the genitals covered. Detectives Dutch Wagenbach and Claudette Wyms arrived later at the scene and talked with Nancy's sister, Janet, who identified her and told her that Jenny was missing.
Although her face is not seen, her sister Janet describes Nancy as "pretty" with long, blond hair. Also, Dutch is heard admiring her breasts.
Appearances
Edit
Ad blocker interference detected!
Wikia is a free-to-use site that makes money from advertising. We have a modified experience for viewers using ad blockers

Wikia is not accessible if you've made further modifications. Remove the custom ad blocker rule(s) and the page will load as expected.