Nadine Demeral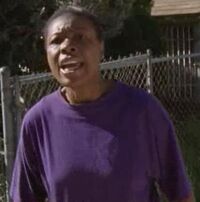 Appeared in
{{{Appearances}}}
Mentioned in
{{{Mentioned}}}
Nadine Demeral was a relative of Marlon Demeral.
When Officers Julien Lowe and Danny Sofer went to Marlon Demeral's house to arrest him, Gladys Demeral came out and tried to stop them. She also called Nadine, and both of them screamed at Julien and Danny.
Appearances
Edit
Ad blocker interference detected!
Wikia is a free-to-use site that makes money from advertising. We have a modified experience for viewers using ad blockers

Wikia is not accessible if you've made further modifications. Remove the custom ad blocker rule(s) and the page will load as expected.