Mouser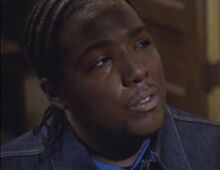 Appeared in
{{{Appearances}}}
Mentioned in
{{{Mentioned}}}
Mouser was a member of the E-Park Johnnies.
When the E-Park Johnnies made an effort to resurrect their "April Fool's parties", Mouser was one of the members present at Lops house, along with Charlie and Boxer. After drawing dominoes, they all set out to various points in Farmington with the intention to kill three random people in response to three gang members they had lost during that year.
That night, Mouser was captured by the police as a suspect in the murder of Jeff Franklin. He was taken to the Barn, where Detective Dutch Wagenbach put him in a line-up for witness Bonnie Wyms to identify. Eventually, Dutch showed Mouser the surveillance video of Boxer's interrogation where he claimed that Mouser was responsible for Jeff's murder. When he saw what Boxer said, he told Dutch that Boxer was indeed the one who murdered Jeff. Dutch then asked why he should believe him and not Boxer, and Mouser told him he could lead him to where Boxer had hid the murder weapon.
Appearances
Edit
Ad blocker interference detected!
Wikia is a free-to-use site that makes money from advertising. We have a modified experience for viewers using ad blockers

Wikia is not accessible if you've made further modifications. Remove the custom ad blocker rule(s) and the page will load as expected.