Montecito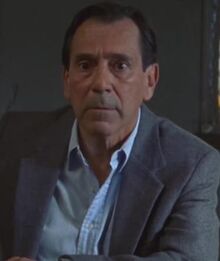 Appeared in
{{{Appearances}}}
Mentioned in
{{{Mentioned}}}
Mr. Montecito was the father of Effi Montecito.
Before Season 1
Edit
Mr. Montecito had bailed his son, Effi, several times for drug dealing charges.
When Effi Montecito was taken to the Barn for drug dealing charges, his father was present. At first, he thought they had brought him for a fraternity prank, but when he heard about the drug dealing charges, he got so angry that he started beating up Effi until some police officers dragged him away.
Appearances
Edit
Ad blocker interference detected!
Wikia is a free-to-use site that makes money from advertising. We have a modified experience for viewers using ad blockers

Wikia is not accessible if you've made further modifications. Remove the custom ad blocker rule(s) and the page will load as expected.