Monique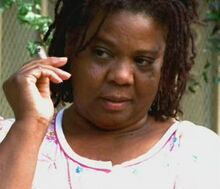 Appeared in
{{{Appearances}}}
Mentioned in
{{{Mentioned}}}
Monique was a neighbor of Melissa Kramer.
When Detective Claudette Wyms went looking for Melissa Kramer, Monique told them she was at the gym. Claudette then asked her if she knew her boyfriend Wally Forton. Monique told her that she heard them often when they had sex, and that he had come about an hour ago looking for Melissa.
Appearances
Edit
Ad blocker interference detected!
Wikia is a free-to-use site that makes money from advertising. We have a modified experience for viewers using ad blockers

Wikia is not accessible if you've made further modifications. Remove the custom ad blocker rule(s) and the page will load as expected.