Miguel Esteana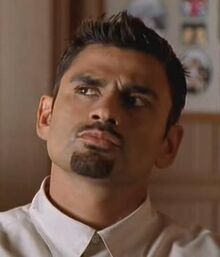 Appeared in
{{{Appearances}}}
Mentioned in
{{{Mentioned}}}
Miguel Esteana was a drug dealer for the 25th Street Coronas.
Before Season 1
Edit
Vic Mackey arrested Miguel allegedly using excessive force, injuring his arm with a pair of pliers. During the arrest, Miguel had eight bags of heroin with him. His case was being overseen by Judge McCallister.
Together with his attorney, Jose Garcia, Miguel filed a complaint against Vic Mackey for excessive force. During a meeting with Captain David Aceveda, Mackey denied the charges. After that, Mackey and Shane Vendrell visited Miguel to threaten him. Miguel then called Aceveda to drop his complaint.
Appearances
Edit
Ad blocker interference detected!
Wikia is a free-to-use site that makes money from advertising. We have a modified experience for viewers using ad blockers

Wikia is not accessible if you've made further modifications. Remove the custom ad blocker rule(s) and the page will load as expected.