Methamphetamine or meth is a stimulant drug that causes intense euphoria. It is a highly addictive drug.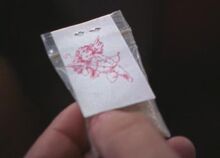 Drug dealer Manny Sandoval game money to Andy, Paul, and Eric to start a "home lab" for methamphetamine. Andy labeled the meth as "Cupid" using a sticker kit from her daughter. The drug was then sold to college students. Effi Montecito was arrested for distributing it in his fraterntiy, while Paul was arrested for mixing it with his brother Eric. Eric died in a fire at the meth lab.
Ad blocker interference detected!
Wikia is a free-to-use site that makes money from advertising. We have a modified experience for viewers using ad blockers

Wikia is not accessible if you've made further modifications. Remove the custom ad blocker rule(s) and the page will load as expected.