Meaty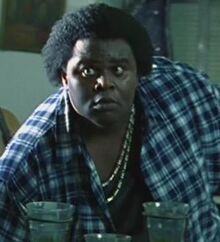 Appeared in
{{{Appearances}}}
Mentioned in
{{{Mentioned}}}
Profession
Pawn shop owner
Meaty was the owner of a pawn shop. He had been an informant for Tavon Garris for five years.
Tavon Garris and Shane Vendrell went to Meaty's pawn shop looking for some stolen jewelry. As Tavon talked with Meaty, Shane found four guns with the serial numbers filed off. Shane arrested Meaty against Tavon's wishes, and took him to the Barn.
Appearances
Edit
Ad blocker interference detected!
Wikia is a free-to-use site that makes money from advertising. We have a modified experience for viewers using ad blockers

Wikia is not accessible if you've made further modifications. Remove the custom ad blocker rule(s) and the page will load as expected.