Mayfield Duffy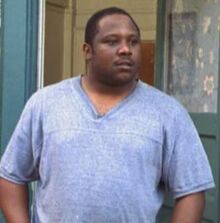 Appeared in
{{{Appearances}}}
Mentioned in
{{{Mentioned}}}
Mayfield Duffy was a Farmington neighbor.
Before Season 1
Edit
Mayfield Duffy had several children in his house. When he became unemployed, he started receiving food coupons which he used to feed his family. One day, he realized that Happy Sandez had stolen the coupons from his mailbox. Without any money left, Mayfield decided to steal groceries to feed his family.
Mayfield went to Otto's store and filled a cart of groceries. When he and his wife asked him to pay, he hit Otto with a bag of ice and fled. Later that day, Officers Danny Sofer and Julien Lowe went to arrest him. As he was being taken, he told them that he did it because Happy had stolen his coupons.
After Julien and Danny put Mayfield in the cage, Julien approached him and told him that the next time, he should ask for help when in need. He then talked to Mayfield about his church.
Appearances
Edit
Ad blocker interference detected!
Wikia is a free-to-use site that makes money from advertising. We have a modified experience for viewers using ad blockers

Wikia is not accessible if you've made further modifications. Remove the custom ad blocker rule(s) and the page will load as expected.