Matthew Mackey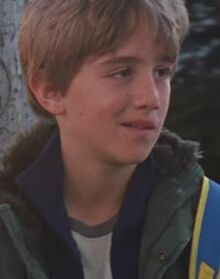 Appeared in
{{{Appearances}}}
Mentioned in
{{{Mentioned}}}
Matthew Mackey was the son of Corrine and Vic Mackey. He has two sisters: Cassidy and Megan. He was diagnosed with autism, which required expensive treatment like special schools and tutors.
Vic and Corrine Mackey started noticing some strange behavior in Matthew, but tried to ignore it. Eventually, his teacher, Mrs. Avonte, asked to have a meeting with them and told them about the same issues they were noticing. She then recommended them to take Matthew to a pediatrician or a neurologist.
As they waited for their appointment, Corrine started having some trouble with Matthew. She said he thought he was a dog and his sudden loss of control was driving her crazy. Vic told her to take a shower as he took Matthew to bed.
Vic and Corrine took him to Dr. Emil Bohdan, a pediatrician. After some tests, he diagnosed him with autism and recommended some special treatment like special schools, tutors, and other things. Vic and Corrine then started looking for special schools for him. While they were doing that, his sister Cassidy was having some trouble with him because he kept doing things to her, like ruining her school notebook.
One night, as the family was eating pizza, Matthew was struggling to eat it with a spoon. However, Cassidy patiently taught him how to do it by taking her slice and eating it so he could learn how it was done. Matthew then took his slice and ate it as well.
Some days later, Corrine was trying to teach Matthew by showing him cards with different drawings. At first, Matthew seemed to correctly identify the cards, but then he kept identifying all of them by the same trait, which worried Corrine and Vic more. Although that was Vic's day off, he had to leave to work and reminded Corrine that the babysitter they had hired for Matthew would arrive later. The next day, Corrine called Vic because Matthew was desperate and calling his dad.
When Ben Gilroy visited the Mackey's house to threaten his family, Vic took them all out of the house and moved them to a hotel. The next day, as Corrine got tired of wanting to know what was happening, she went back to their home. When she found it destroyed, she decided to take the kids and leave Vic.
Appearances
Edit
Joel Rosenthal
Edit
Jack Weber
Edit
| | |
| --- | --- |
| Season 4 | The Cure · Grave · Bang · Doghouse · Tar Baby · Insurgents · Hurt · Cut Throat · String Theory · Back in the Hole · A Thousand Deaths · Judas Priest · Ain't That a Shame · |
| | |
| --- | --- |
| Season 6 | On the Jones · Baptism by Fire · Back to One · The New Guy · Haunts · Chasing Ghosts · Exiled · The Math of the Wrath · Recoil · Spanish Practices · |
Ad blocker interference detected!
Wikia is a free-to-use site that makes money from advertising. We have a modified experience for viewers using ad blockers

Wikia is not accessible if you've made further modifications. Remove the custom ad blocker rule(s) and the page will load as expected.