Margo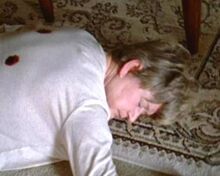 Appeared in
{{{Appearances}}}
Mentioned in
{{{Mentioned}}}
[[:Category:{{{Images}}}|Images]]
Margo was the step-mother of Donna. She was murdered by her step-daughter because she didn't like her and she didn't take care of her father like her mother did.
Donna, feeling her step-mother didn't treat her father right, acquired her father's handgun and shot her in the back twice after she turned her back on her family. After her death, Donna stole her step-mother's jewelry and claimed that she was killed by Hispanic gang members.
Appearances
Edit
Ad blocker interference detected!
Wikia is a free-to-use site that makes money from advertising. We have a modified experience for viewers using ad blockers

Wikia is not accessible if you've made further modifications. Remove the custom ad blocker rule(s) and the page will load as expected.