Lucky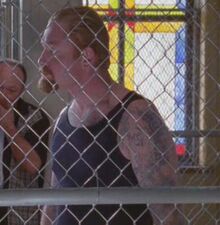 Appeared in
{{{Appearances}}}
Mentioned in
{{{Mentioned}}}
Lucky was a criminal that was held prisoner at the Barn.
Lucky was being held in the cage with Margos Dezerian. When Officer Danny Sofer approached the cage, Dezerian said something to her in Armenian. Lucky then commented to her that he hadn't spoken anything in the whole day so he must like her, but referring to Margos as a "faggot". Later, Margos broke Lucky's neck killing him, which prompted Captain David Aceveda to have him moved to another facility.
Appearances
Edit
Ad blocker interference detected!
Wikia is a free-to-use site that makes money from advertising. We have a modified experience for viewers using ad blockers

Wikia is not accessible if you've made further modifications. Remove the custom ad blocker rule(s) and the page will load as expected.