Lucas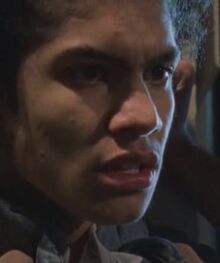 Appeared in
{{{Appearances}}}
Mentioned in
{{{Mentioned}}}
Lucas was a member of The Toros and a friend of Train Guttierez.
Lucas was outside the gun shop where Train's girlfriend, Lucy, was killed. He tried to comfort his friend until Vic Mackey came to question them. Mackey pulled a knife out of Lucas' jacket and threatened to plant some cocaine on him if he didn't say who was the killer. Lucas told him that Wet Willie had been bragging since he got paroled.
When the real killer, George Michael Klassen, was handed to The Toros by Leon, Mackey and Det. Carlos Zamora interrogated Lucas again to see where they had him. Since Lucas refused to talk, Mackey threatened to hit him. When Lucas said that Carlos wouldn't let him beat him, Carlos hit him and asked him again where they had George. He then revealed his location.
Appearances
Edit
Ad blocker interference detected!
Wikia is a free-to-use site that makes money from advertising. We have a modified experience for viewers using ad blockers

Wikia is not accessible if you've made further modifications. Remove the custom ad blocker rule(s) and the page will load as expected.