Louis Saldera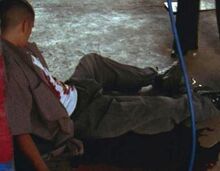 Appeared in
{{{Appearances}}}
Mentioned in
{{{Mentioned}}}
Louis Saldera was a young man who was killed in a shooting.
While washing his car adjacent from Steve Billings, a Los Mag from another car drove over to Louis and started arguing with him in Spanish before holding a gun to him. Even though Steve heard and witnessed the argument, he merely hid behind a wall instead of trying to stop the crime from happening. After brief yelling, the assailant shot Louis four times in the chest at close range. Steve came out of hiding, only to realize that he was too late to save Louis.
According to Claudette, Louis was 21 before death and owned a 2003 Honda.
Appearances
Edit
Ad blocker interference detected!
Wikia is a free-to-use site that makes money from advertising. We have a modified experience for viewers using ad blockers

Wikia is not accessible if you've made further modifications. Remove the custom ad blocker rule(s) and the page will load as expected.