Lonnie Reborg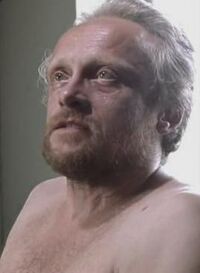 Appeared in
{{{Appearances}}}
Mentioned in
{{{Mentioned}}}
Lonnie Reborg was the husband of Nancy Reborg and the father of Jenny. Lonnie and Nancy were separated or divorced.
Lonnie went to look for his daughter, Jenny. When Nancy refused to let her go, she took a knife, but Lonnie took it from her and killed her. He then took their daughter, Jenny, and sold her to a man called George Sawyer for $200. He then went to a crack house owned by a man named Monty to buy drugs. Vic Mackey found him there and took him to the Barn for questioning. As he sobered up, Dutch Wagenbach and Claudette Wyms questioned him and he confessed having sold the girl to Sawyer.
Appearances
Edit
Ad blocker interference detected!
Wikia is a free-to-use site that makes money from advertising. We have a modified experience for viewers using ad blockers

Wikia is not accessible if you've made further modifications. Remove the custom ad blocker rule(s) and the page will load as expected.