Lloyd Hawkins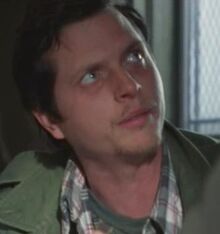 Appeared in
{{{Appearances}}}
Mentioned in
{{{Mentioned}}}
Lloyd Hawkins was the son of Maynard Hawkins and Mona Gaines.
Before Season 1
Edit
During his childhood, apparently Maynard wasn't a good father to his children. Eventually, Lloyd's mother, Mona, told Lloyd to take care of Maynard and left. Lloyd took Maynard to a nursing home, but after missing some payments, they threw him out. Lloyd then took him to live at his house. Unable to deal with him being blind and wandering outside the house, Lloyd usually left him chained in the yard whenever he had to go out.
Lloyd also had to pay alimony and child support.
When the police found Maynard chained in the backyard after being attacked by coyotes, Lloyd arrived and was arrested. As Detective Claudette Wyms interrogated him, he explained how he was kicked out of the nursing home and how he didn't have money to put him in another one. Lloyd was then formally arrested for elderly abuse.
Appearances
Edit
Ad blocker interference detected!
Wikia is a free-to-use site that makes money from advertising. We have a modified experience for viewers using ad blockers

Wikia is not accessible if you've made further modifications. Remove the custom ad blocker rule(s) and the page will load as expected.